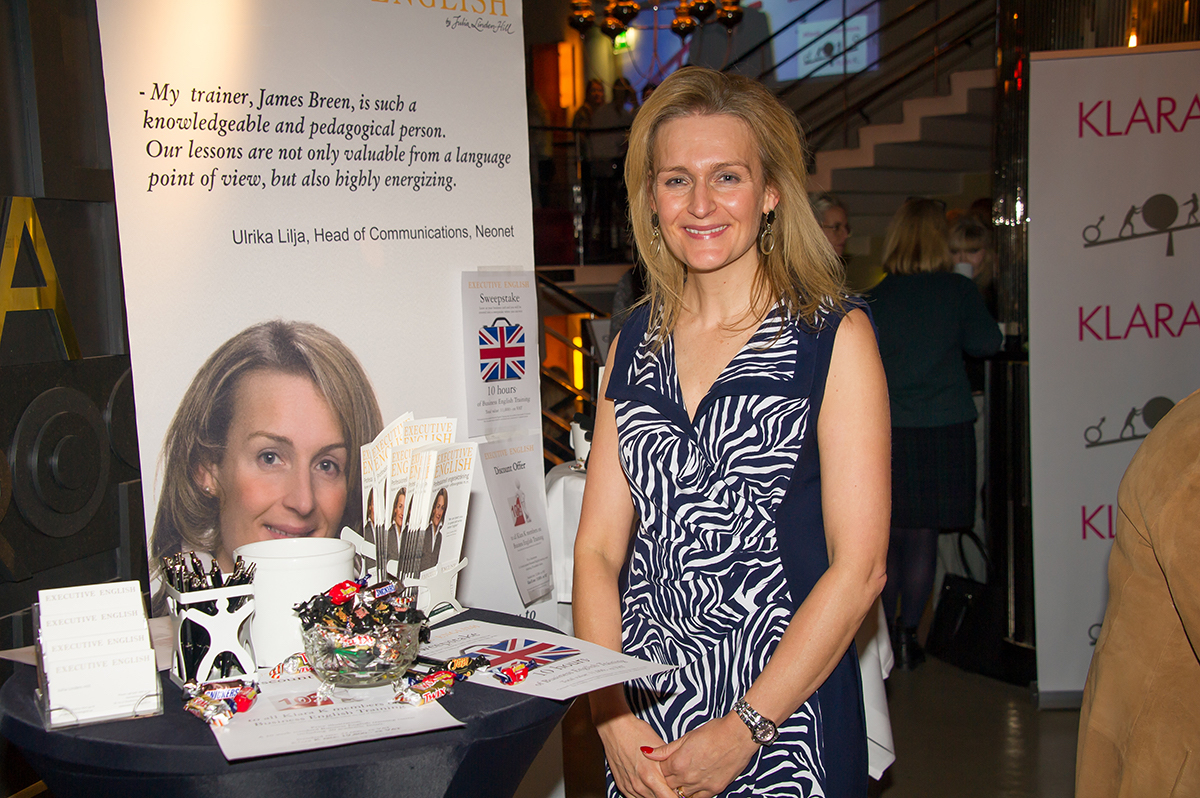 Småföretagare: Julia Linden-Hill
I vår serie om hur företagande kvinnor drabbats av coronakrisen har vi idag ställt frågor till Julia Linden-Hill, grundare och vd på Executive English.
Hello there, Julia Linden-Hill, founder and owner of Executive English AB. How did you come up with this business idea?
– I had been teaching for many years as a Business English consultant for another company when one client in particular urged me to set up my own practice. She kept persisting and even though I was expecting my second child at that time, she suggested that I could bring the baby to the lessons. Due to that fantastic female client (herself a successful senior manager working in a bank) I was inspired to start Executive English, with the focus on providing quality tailor-made training for Swedish businessmen and women, and I am proud of our reputation and our client list which I and my team have established during these twelve years.
Who is your typical client?
– Middle to Senior Managers, VPs or Directors working for an International company who need to produce polished and professional presentations and clear communication in English to clients, boards, shareholders, investors, and colleagues. We also work in the Public Sector with Swedish organisations which are now required to co-operate on European or International projects, particularly in the areas of infrastructure, construction and real estate, as well as Governmental Agencies hosting diplomats and ambassadors. Much of our work involves confidential assignments where we sign NDAs.
What is your ambition with the company?
– To build on our reliable and quality driven service providing bespoke Business English services and executive coaching to our clients, whether they are individuals, small groups or larger ones and to help increase the success of businesses in Sweden being able to operate in an International market. To strengthen and develop the team of native executives from the UK, US and Australia with regular support and motivation.
How has Corona affected your business?
– My team and I have been exploring different online platforms to use with our clients such as Skype, Zoom and Microsoft Teams and all training has been conducted online since mid-March. My team has been testing these platforms through regular online meetings together and together with our clients, we feel confident using this approach.
I've heard you are a member of the 5-o'clock-club. What is that?
– This is a concept devised by the lifestyle guru, Robin Sharma. One of my clients gave me his book entitled, 5am Club, for Christmas and I read it in one sitting. The idea is that you set your alarm for 0445 and start the club at 0500 – 0600, or in the hour before the sun rises.
0500 – 0520 = MOVE, 20 minutes of some form of exercise. This involves a yoga routine for me but I will revert to a walk around the lake where I live in the summer months.
0520 – 0540 = REFLECT, 20 minutes of meditation or contemplation. I listen to Headspace, the meditation app.
0540 – 0600 = GROW, 20 minutes listening to a podcast or reading something. I listen to Hidden Brain, The FT's Rachman Review or The Science of Happiness amongst others.
Sunday is my day off though!
Beside wanting the pandemic to end, what do you wish for most regarding your company?
– That we continue to help our clients gain the confidence they need when using English at work and to see them grow as well as grow our business so that we reach all parts of Sweden. Online training will help us make this dream come true.
---
Name: Julia Linden-Hill
Age: 49
Company: Executive English JLH AB
Founded: 2008
Most impressed by: Sweden's approach to dealing with Covid-19.
---
Vill du bättra på din affärsengelska? Läs mer om Executive English tjänster här.